Lately Ashanti has really been making bold statements with her personal style. Although it sometimes goes left, I think she almost hit the mark with this custom Dominique Auxilly Dress, as she hosted the Liquid Sundays Pool Party at the Foxwoods Resort & Casino. The designer has been seen on a host of celebrities including Dawn of Dirty Money, Trina, Angela Simmons, & Nicki Minag.
The singer flaunted her curves in a plum and ivory colored rope dress. She paired it with matching peep-toe platform pumps. I personally love the construction of this piece. The plunging neckline & sexy back. To amp up the look even more, Ashanti channeled an Egyptian goddess by wearing a gold head-piece, cuffs, and dangling earrings topped off with an extra-long sleek ponytail.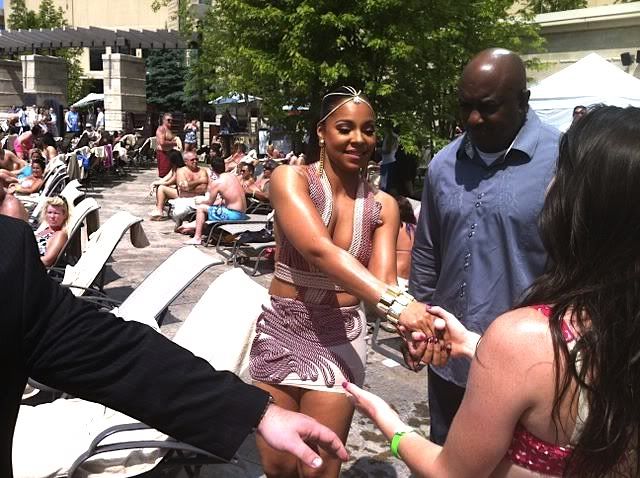 This look could have received an A if it were made to fit her body just a little bit better. Imagine what a difference that would have been made if her waist were cinched just an inch more to achieve the perfect hour-glass shape.
I do commend her for being daring and trying something different. && like I said before, it is a beautiful dress, but the fit wasn't perfect. && we all know fit is KEY.
**Jocoby Joyy-Create Your Brand. Market It Effectively.