We loved Kanye's Fashion Week debut. What better way to celebrate then to feature the looks from Dw as Fresh Off The Runway.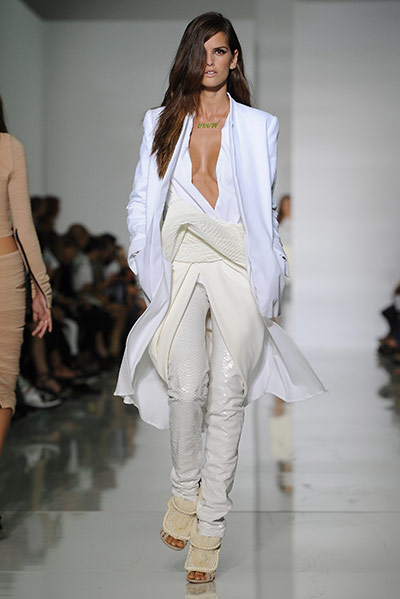 & yes, Dw is still being talked about heavily even days after its launch. Some people are loving it, while some, as we know, are tearing it to pieces. In my opinion, while there may be some wrong, you have to admit there was a lot of good.The staging of the show was beyond, beyond just like I predicted last week. & a lot of the looks popped. Like the first all white one. Its my fave ;] & lastly, to me you can tell that he just didn't slap his name on something he 'thought his fans would wear' like a plethora of other celebrity designers and make a killing off of it. I think Mr. West has proven to us that he has a sincere interest in fashion.
*Sidenote- People can say what they want, but obviously insiders took Mr. West seriously about his debut as some of the biggest names in fashion turned out. Anna Wintour, Jeremy Scott,

Azzedine Alaïa, the Olsen twins . . . Those people just don't come to shows for nothing.
**Jocoby Joyy-Do your thang cuzzzzz'