The industry has been abuzz with rumors of Kanye West producing his own collection for awhile now. There was the whole Pastelle thing, then it was said that he would make his debut at NY Fashion Week, but it has finally been confirmed that our most stylish rapper will be debuting at Paris FW this Saturday, October 1st. The show is scheduled for 9:30 pm right after Jean Paul Gaultier & Loewe.
This ladies & gentlemen, is bigger than big. Firstly, we have to recognize that an African American male designer will be at one of the biggest events in fashion. That is an accomplishment within itself. The lack of diversity in high fashion is sickening, and this could be seen as a means of bridging the gap. Secondly, this is Mr. West we're referring to, && Yeezy does not half-step. If he's passionate about it, best believe the level of production will be crazy. They seriously need to stream this live.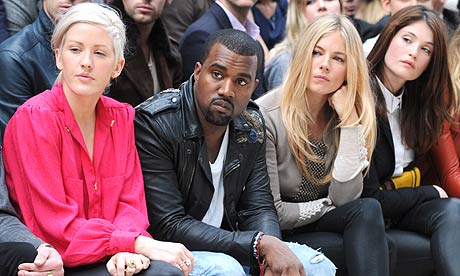 It has been reported that he has fashion graduates from Central Saint Martins working under him as well as designers Louise Goldin and Dean Quinn. It has been said that,

"[It] will be extraordinarily expensive; some of it is virtually unproduceable."
I for one do not know how to act. I know all of the Kanye fans are somewhere going bananas. Lets just put it this way, if this line represents and stays true to the Kanye we all know and love, this will be the beginning of something BIG.
Jocoby Joyy- "The luxury of rap. The Hermes of verses. Sophisticated ignorance; write my curses in cursive."