You guys know me. I'm always online browsing, shopping, etc, etc. Somehow, this past weekend, I randomly came across this cool site. http://www.msfitz.bigcartel.com/ . & who would I be not to let #TeamVogueD in on the skoop?
Nothing too extravagant, but still super edgy and cool. The girl in the ad with her orange lips, winged liner, & over-drawn eyebrows are giving me life. Its so wrong, its right. After doing some research, one can clearly tell that Ms.fitz is an online accessory shop. They specialize earrings, necklaces, bracelets, and even ear/nose chains. Perfect for anyone who wants to spice up their fit.
From what I seen, prices range all the way from $25.00, up to $125 which means it wont completely break the bank. I adore the color and the uniqueness of their pieces. Plus, they incorporate gold chains into almost everything. & yu guys know. . . I'm a sucker for gold <3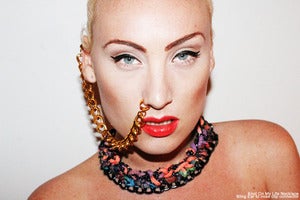 I don't care what anyone says, their chain necklaces get me hot. & I feel as though you can wear them with an array of things. Jeans & t shirt, or bring toughness to that skirt & blouse.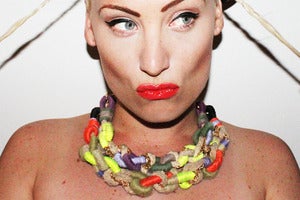 Are yu guys feelings these pieces ? VOGUE, or NO? Be sure to let me know ;]
**Jocoby Joyy- Create Your Brand. Market It. As Easy As Pie.